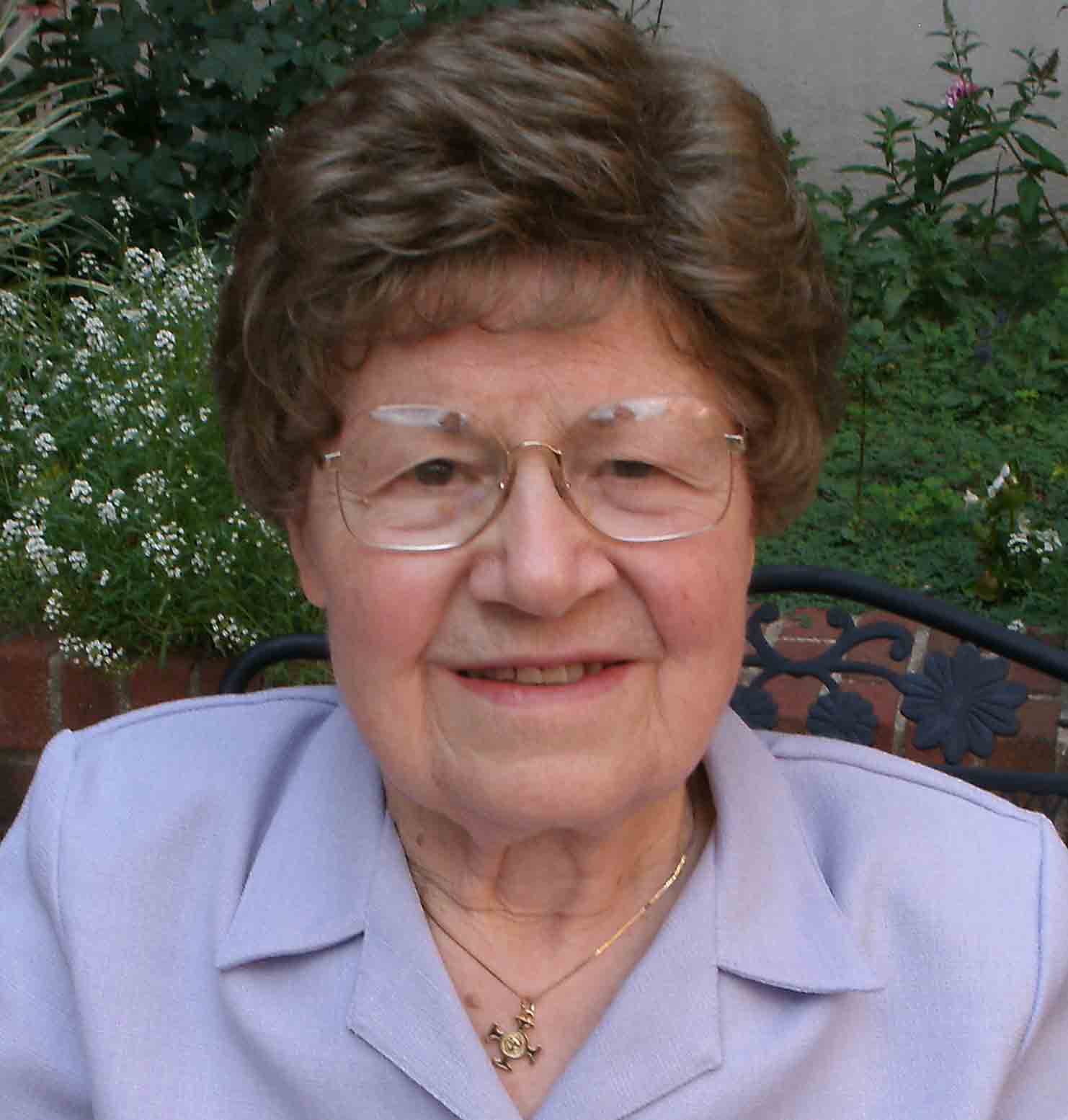 Sister Rita Bilz 1926-2021
Born July 6, 1926
Entered St. Walburg Monastery in 1959
Received habit in 1960
Died February 3,  2021
Sister Rita Bilz was born on July 6, 1926 to John Lawrence and Margaret Foltz Bilz. Rita Philomena was the fifth of six children, the youngest of whom died as an infant. The family were members of Holy Guardian Angels Church in Sandfordtown, KY where Rita attended the parish school.
While living at home, Rita kept a garden which reflected her love for order. She liked to keep things "neat as a pin". Always a spiritual person, she had a grotto at home which is now at the home of her nephew, Jim Bilz.
Rita Bilz entered St. Walburg Monastery in 1959. She became a novice in 1960 and received the name Sister Pius Marie. First profession followed in 1961 and perpetual profession in 1966. Sister Rita celebrated her silver jubilee in 1986 and her golden in 2011.
In 1962 Sister Rita began a lifelong ministry of culinary artistry in the monastery kitchen. She trained novices as they took 6-week tours of duty in the kitchen. Her "honey-dear…" was preparatory to a correction. Sr. Rita welcomed Sr. Veronica Weibel to the kitchen in 1968. They enjoyed many years working together.
In the early kitchen years, Sr. Rita traveled to several cooking workshops at Stonehill College and the University of Notre Dame. She was an avid reader of Southern Living and relied on a variety of cookbooks.
Sr. Rita liked to try new things. She was more a classic cook than a trendy one, not going in for food fads. When the days of table-waiting gave way to buffet style, Sr. Rita was quite particular about the appearance of the table. A delicious meal relies on color and texture as well as taste. Monastery photo albums attest to that.
Wednesday was pie night. Rita served at least three kinds, all in her own pie crust. Wednesday was the evening the sisters invited guests.
Sr. Rita retired at year's end, 2005, after 43 years of service to St. Walburg Monastery. She was now freer to indulge in special interests, particularly listening to "real" bluegrass music. Rita had her standards. She was well known to local radio station personnel, calling in her opinions, her appreciation, and making requests. When co-workers and sisters took her to bluegrass concerts, she insisted on the front row. She bought their CDs, too. On her 90th birthday, who should come to the party but a bluegrass band in which Rita's own great-niece performed. She was totally surprised and delighted.
At age 94 Sr. Rita's life began winding down. She died peacefully in the evening of February 3, 2021. Nieces Charlotte Decker and Barbara Blackwell preceded her in death. She is survived by her nieces and nephews, Sr. Nancy Kordenbrock OSB, Bob Kordenbrock. Ben Kordenbrock, John Bilz, Jill Heink, Jim Bilz, many great-nieces and nephews, six great-great nieces and nephew and her Benedictine community.
Vigil service will be held on Sunday, February 21 and Mass of Christian Burial on Monday, February 22. Interment will follow in St. Walburg Cemetery.