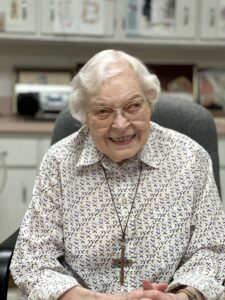 Sr. Emmanuel Pieper has been a Benedictine Sister for over 75 years. She graduated from Villa Madonna Academy in 1947 and received her Bachelor's Degree (Magna cum Laude) and her Masters from the University of Notre Dame. Sr. Emmanuel is grateful to the community for the opportunities to teach and create. Sr. Emmanuel taught elementary school at St. Therese in Southgate and St. Joseph in Crescent Springs. The majority of her teaching was at Villa Madonna Academy, where she taught for nearly 40 years.
For the first time, at 95 years old, Sr. Emmanuel's art is being offered. There are a limited number of  signed prints as well as note cards and Christmas cards. The art being offered is below.  To order:
1)     Click here for the Art Order Form.
2)     Mail form and payment (check payable to St. Walburg Monastery) to:
                St. Walburg Monastery – Art 
                2500 Amsterdam Road
                Villa Hills, KY 41017
OR
Place order at swm.development@gmail.com and pay for order when you pick up or online at https://www.stwalburg.org/support-us/.
3)      Orders may be picked up at the Monastery or mailed (for a small fee).
          If you are picking up, we will reach out to you to let you know when the order is ready. 
Questions? Please email swm.development@gmail.com.
Click on each item.