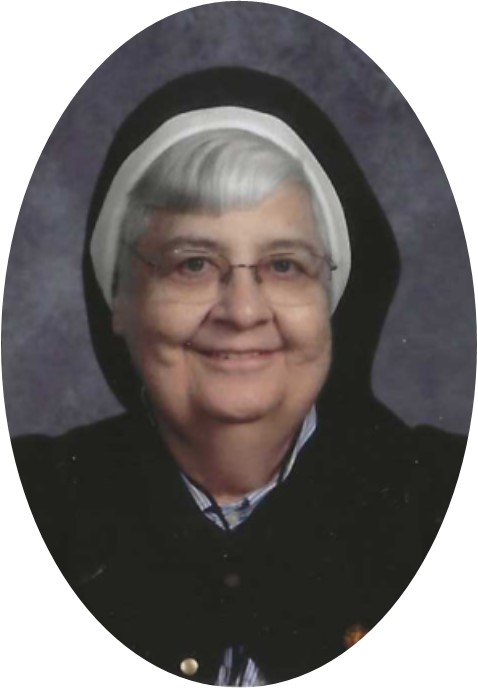 Sr. Laura Vallimont, OSB January 6, 1944-December 28,2021
Sister Laura Vallimont, O.S.B. died at age 77, on December 28, 2021, following a short illness. She was born on January 6, 1944, in Erie, PA, a daughter of Elmer and Eleanor Vallimont.
Baptized Dolores Helen, Sr Laura grew up among 17 siblings, eight sisters and nine brothers. She entered religious life at St. Joseph Monastery, St. Marys, PA in 1960.
She received a B.S. in elementary education and a M.A. in reading and supervision.
She taught many years and served as principal for 25 years in the Erie diocese. Having served on many boards and councils she received an exemplary service Papal Award in 2006. She served her Benedictine community as the religious superior for four years.
Sister Laura is survived by five sisters, Sr. Judith Vallimont, Missionary Sisters Servants of the Holy Spirit, Techny, IL; Joyce Silkworth, Elizabeth (Gerard) Mentz, Geraldine (Leon) Stancliff, all from Erie, PA; Janice (Paul) Zawadzki of Westfield, IN; six brothers, Paul (Joyce), Robert (Lisa), Patrick, Edward (Kathy), Philip and Mark Vallimont, sister-in-law, Mary Ann Vallimont and brother-in-law, Raymond Zapolski. She is survived by numerous nieces and nephews and grand-nieces and nephews.
She was preceded in death by her parents, three sisters Catherine (Zapolski), Patricia and Marjorie Vallimont and three brothers Raymond, Walter, and Donald.