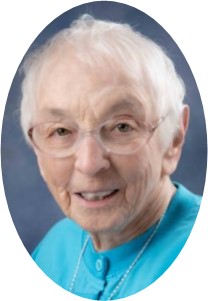 Sister Henrietta Seiler, OSB, died peacefully Sunday evening, January 30 at St. Walburg Monastery at age 94. A Benedictine sister for over 72 years, Sr. Henrietta served as a primary grade teacher at a number of schools in the Diocese of Covington, St. Peter & Paul, Danville, KY and at St. Patrick School, La Junta, CO, a Montessori teacher at Villa Madonna Montessori, Holy Cross, Kennedy Heights and Covington Children's House and head of housekeeping and laundry at Madonna Manor Nursing Home.
She is preceded in death by her parents Raymond and Henrietta Schuler Seiler, her sisters, Margaret Heyl, Catherine Nestheide, Helen Lunn, Alice Lewin and brother, Fr. John Seiler. Sr. Henrietta is survived by many nieces and nephews, friends and her Benedictine community.
Vigil service was held on Sunday, February 6 at 4:30 pm at St. Walburg Monastery. Memorial Mass was Monday, February 7 at 5:00 pm, at St. Walburg Monastery. Sr. Henrietta's body was donated to University of Cincinnati College of Medicine.