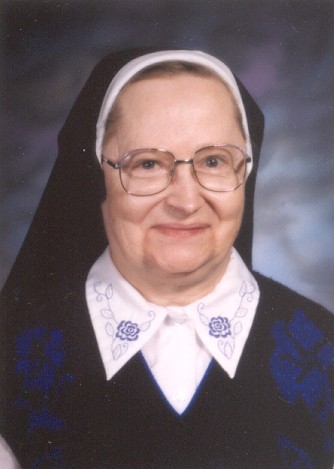 Sister Estelle Schulte, 1926-2019
 Born September 30, 1926
Received habit, 1946
First Profession, 1947
Died December 10, 2019
Sister Estelle Schulte was born on September 30, 1926 to Norbert and Irene Faust Schulte and named Mary Catherine. She was the third of five children, three brothers and one sister, all of whom are deceased.
Mary Catherine was a graduate of Holy Cross High School and entered St. Walburg Monastery in 1945. She became a novice in 1946 and received the name Estelle. First profession followed in 1947 and perpetual profession in 1950. Sister Estelle celebrated her silver jubilee in 1972, her golden in 1997, and her diamond in 2007.
Sr. Estelle received her B.A. from Villa Madonna College in 1954 and became certified as an elementary librarian in 1965. She taught in diocesan elementary schools for twenty-seven years and then served for twenty-five years as elementary librarian at Villa Madonna Academy. During the years at VMA the elementary library moved from one location to the other within the school. Through about five different moves she kept her sense of humor and took it all in stride.
Sr. Estelle retired from Villa Madonna in 1999 and two years later became monastery sacristan, a position which made use of her skills in attending to detail. She served for twelve years as sacristan.
A willing and active support staff member, Sr. Estelle was often called upon to assist when something needed to be assembled. Neat and meticulous, she renewed Liturgy of the Hours binders for nearly thirty years. Any major revision required work in removing and adding pages of text, music, and in renewing outworn ribbons. Sr. Estelle served on every crew with aplomb.
Sr. Estelle grew weaker in the past few months, and died as her sisters in community prayed the prayers for the dying with her on December 10, 2019. Vigil service was held the evening of Monday, December 16 with the Mass of Christian Burial at 5:20 pm, Tuesday, December 17 at St. Walburg Monastery. Sr. Estelle will be interred in St. Walburg Monastery Cemetery on Wednesday morning.