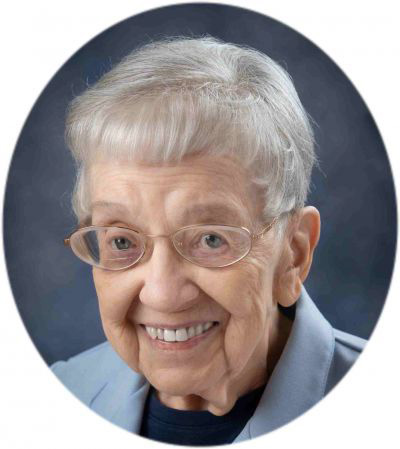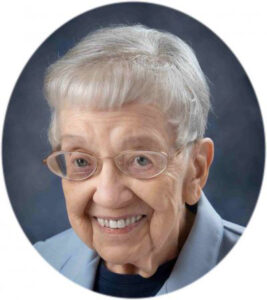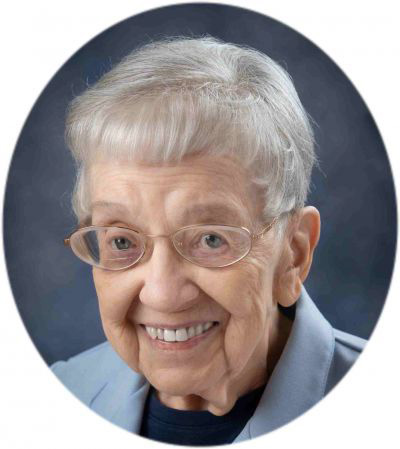 Sister Victoria Eisenman was born on April 25, 1928 to Francis A. and Margaret Fussinger Eisenman and named Audrey Jean. She was the older of two children; her brother Jerry (now deceased) followed.
Audrey entered St. Walburg Monastery in 1946, became a novice in 1947 and received the name Victoria. First profession followed in 1948, perpetual in 1951, silver jubilee in 1973, golden in 1998, and diamond in 2008.
Sister Victoria began teaching in 1948, achieving her B.A. in Elementary Ed. at Villa Madonna College (now TMU) in 1953 and her M.A. in Elementary Ed. from Catholic University in 1958. Although she taught and served as principal during several of those years, she was able to study at St. Louis University to complete her Ph.D. in Elementary Education in 1962. For five years she taught in the Education Dept. at Villa Madonna /Thomas More College before becoming a supervisor for the Diocese of Covington Education Office.
Sister Victoria served as principal at St. Paul Parish (1976-85) and at Villa Madonna Elementary (1986-95), becoming Executive Director of VMA in 1995. She retired from that position in 2001.
At that time Sr. Victoria said her goal during her years at VMA had been to establish "those values of the Benedictine community which have given so much life and peace to me." She promoted the school's Benedictine identity consistently and left behind materials to assist the school's leadership in carrying on that work.
After "retiring", Sr. Victoria served as a liaison between the day care and monastery, oversaw dorm rental, kept current the personal records of community members, and enjoyed having adequate time for personal prayer, spiritual reading, and visiting in the infirmary. She commented that she gets "great pleasure helping people who have trouble moving freely or who need any kind of assistance." For fun she played the dulcimer, worked jigsaw and word puzzles. In her younger years she loved to dance and laughed easily throughout her life.
Sr. Victoria moved to the infirmary in 2017. She was amazed with the way the infirm sisters patiently awaited the Lord's coming and asked, "May God grant me the grace to do likewise."
Sr. Victoria died on June 28, 2022, preceded in death by her parents Francis and Margaret Eisenman and her brother Jerry. She is survived by her nieces, nephews, friends and her Benedictine community.
Vigil service was held the evening of July 5 and the Mass of Christian Burial on July 6, 2022 followed by interment at St. Walburg Cemetery.